Varmt Välkommen till Svenska Kulturföreningen i Manitoba och Sverige i Manitoba.
WELCOME TO THE SWEDISH CULTURAL ASSOCIATION OF MANITOBA
UPCOMING EVENTS
**For all enquiries regarding events for the Swedish Cultural Association please email: SvenskClub17@gmail.com **
Have any photos you'd like us to share, or post on social media of club events? Please send them to svenskclub17@gmail.com for consideration!
SEPTEMBER 2019
Swedish Language Classes: Beginner - Sunday Sept 22-Dec 8, 2-3:30pm; Intermediate - Thurs, Sept 26 to Dec. 12, 6-7:30 pm; Advance -Thurs Sept 26-Dec 12, 4:30 to 6:00 pm. Register through svenskclub17@gmail.com.
OCTOBER 2019
Oct. 4: Svensk lunch: Fri 11:30 am – 1:00 pm: $8.00; Delicious open faced sandwiches, soup, dessert and endless coffee and fellowship; Reserve at svenskclub17@gmail.com
Oct. 6: Sunday Brunch: 10:30am -1:00 pm: Scandinavian Centre; Cost $15.00 adults/$7.50 children; Please reserve early at sccreservations@shaw.ca
Oct. 17: Fika Night – Cancelled; due to trip to Lindsborg.
Oct.17-20th, Lingborg, Kansas trip - Join us in this Swedish Heritage celebration on October 18th & 19th for dancing, food, art, kids activities and more! For more information register at svenskclub17@gmail.com
NOVEMBER 2019
Nov. 3: Waffle Breakfast: 10:00 am – 1:00 pm: At the Charleswood Legion, hosted by Lodge Strindberg. Tickets can be purchased at the door.
Nov. 17: SCC Christmas Market. Sun.,11am - 2:30pm
Nov. 23: Children's Christmas party Sat. 12-4pm
Nov. 21: Christmas Fika and sweets. Thursday, 7 pm
DECEMBER 2019
TBA : Julbord at IKEA Wed.,4:30 pm
Dec. 8: Lucia celebration Sunday, 2 pm. Tickets $12 adults, $5 children 6-12, under 5 free. No tickets sold at the door. To order tickets, email Svenskclub17@gmail.com , order by etransfer or by calling 204-633-2067
HISTORY
Swedes started to arrive in Manitoba during the reign of Queen Victoria, in the years of approximately 1870 to 1880 when Manitoba was first created. The vast majority of the first to arrive settled in the country, and were involved in rural life and agriculture. The first completely Swedish community in Canada is the community and village of Scandinavia, Manitoba which was established in 1885 and is also known as "Little Sweden". In 1908, the community adjoining Scandinavia was established when a post office was opened and named "Avesta". The name of Avesta was chosen after the village of Avesta in Sweden's province of Dalarna. As the village grew, the name of Avesta was changed to "Erickson", in honour of the first Postmaster, a man who immigrated from Sweden named Mr. E. Albert Erickson. A large number of Swedes also began to arrive in the province's capital city of Winnipeg from America after World War I, with many settling around the Logan and Main Street area. Winnipeg reigned as Swedish Canada's most important city until the 1940s. According to the 2006 census, there are over 13,000 individuals who claim a Swedish heritage in Winnipeg.
The Swedish Cultural Association of Manitoba or "Svenska Kulturföreningen av Manitoba" is the official name of the Swedish Club at the Scandinavian Cultural Centre. We are currently an affiliate of the Swedish Council of America. Many of our members are also members of the Strindberg Vasa Lodge - a fraternal organization with member lodges in USA, Canada, and Sweden. Our Association's goals are to preserve, promote and celebrate Swedish culture in our community.
ACTIVITIES
The activities of our Association centre around monthly Fika or Coffee Nights on the third Thursday of each month with seasonal snacks and featured cultural programming, Swedish brunches on selected Sundays, hosting of a number of Friday night "TGIF" dinner and speaker evenings on topics of interest, Swedish language classes, the Lucia celebration in December, Swedish Flag Day, and participation in Midsommer observance with the Vasa Lodge. We also work closely with the other four clubs at the Scandinavian Centre to present larger Nordic events and fundraisers, such as the Viking Feast. We also have a summer crayfish party, road trips to historical Swedish places in Manitoba and a group trip to Sweden.
The Swedish Cultural Association also hosted the Swedish Women's Soccer team at the FIFA World Tournament in Winnipeg and launched a book called `Swedes in Canada, the Invisible Immigrants`.
The Swedish Cultural Association is proud of its local musicians and singers who help to preserve songs, dances and music from the past, not to mention the playing of the fascinating ancient Swedish instrument, the nyckelharpa. We also welcome and host visiting Swedish performers and special events from other Swedish organizations outside Manitoba.
These and other ad hoc events (e.g. Swedish movie night, Kubb by the river) are for the benefit of both members and anyone else with an interest in Swedish culture. You don't have to speak Swedish to enjoy our events!
RELATIONSHIPS
The Swedish Cultural Association enjoys mutually supportive relationships with local businesses and academic institutions that share an interest in Swedish culture and we welcome opportunities to partner together. Our major partners are the other Scandinavian countries that form the Scandinavian Centre.
The Swedish Cultural Association has hosted university students from Sweden. Each student prepared and presented special presentations about their home village and community at a special TGIF Dinner. The history of Sweden Immigrants is now housed in the archives at the University of Manitoba, John Dafoe Library. We have partnered with IKEA for Dala Horse Painting, Julbord at Christmas, Crayfish festival in August and the Swedish Press with articles about our activities accepted in their magazine.
LANGUAGE CLASSES
We offer Swedish language classes based on demand, which in a normal year may serve both beginner and more advanced levels. Acquiring basic language skills is enjoyable and has several practical applications, for example, when preparing for a trip to Sweden, for reading genealogical documents or family photo notes, or for communicating with overseas relatives. Our Swedish instructors are renowned for their helpful advice to those wanting to travel to Sweden. For further details, contact any member of the board, who will in turn provide an email address for the current instructor(s).
SANKTA LUCIA CELEBRATION
Lucia Day on December 8th marks the unofficial launch of the Christmas (Jul) season for Swedes. At the Scandinavian Centre, we typically present both Luciadagen and Julfest celebrations on a Sunday nearest this date. The event begins with the magical candlelit procession of children in white gowns singing the beautiful "Sankta Lucia" song. They are led by an appointed "Lucia" girl wearing a crown of candles on her head, who is celebrated as a "beacon of brightness" as we near the darkest time of year. Food and beverages include the hot Christmas drink known as glögg, gingerbreads (pepparkakor) and sweet saffron buns (lussekatts). As done in Sweden, guests are invited to hold hands and dance around a Christmas tree to the tune of songs and steps from the past, and there may be the telling of the tomte story for the children. Each year may offer something a little different.
SVERIGES NATIONALDAG / FLAG DAY
The Swedish National Day on June 6th is a public holiday in Sweden in commemoration of the election of Gustav Vasa as King of Sweden on this date in 1523. This is a great excuse for Swedes and friends in Winnipeg to get together for a major outdoor picnic featuring favourite Swedish foods, games such as kubb, and the singing of the national anthem.
MIDSOMMAR / MIDSUMMER CELEBRATION
The most eagerly awaited festivity in the Swedish calendar is the Midsummer (midsommar) celebration. In Sweden, events are spread out over the Saturday and the Midsummer's Eve (Friday) between the 20th and 26th of June. The Swedish Cultural Association in Winnipeg celebrates the event on a Sunday, which is convenient for families to attend, at Vasa Lund Park in Charleswood. The day starts out with the picking of the flowers and decorating of the maypole, using local wildflowers, greenery and favourite flowers from our gardens. The parade of the maypole follows, along with singing and dancing around the maypole, displays, and a traditional picnic with games and prizes. Frying pan toss, Kubb, boot toss, balloon toss are some of the games.
FOLKLORAMA
This is the annual festival of nations in Winnipeg, Manitoba. This two-week long celebration showcases Canada's cultural heritage. The Swedish Cultural Association partners with the four other Scandinavian nations to provide ethnic entertainment and cuisine. Each country honours their heritage by creating cultural displays about their history. Imported goods are also available for purchase.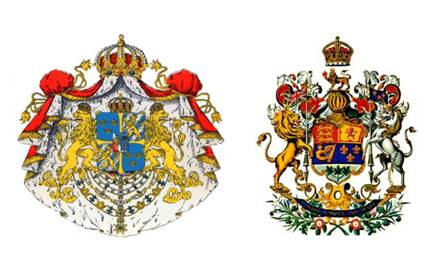 Svenska Kulturföreningen av Manitoba Styrelse 2018 och 2019
The Swedish Cultural Association of Manitoba Executive Board 2019
Sonja Lundström – Ordförande / President

Josef Neufeld – Vice ordförande / Vice President

Adina Lyon – Sekreterare / Secretary

Mari Clovechok – Kassör / Treasurer

Nancy Drews – Ledamot / Member

TBA - Sociala Medier /Social Media

Fredrick Bergstrom – Ledamot / Member

Josef Neufeld– Ledamot / Member

Kathleen Ohlson – Ledamot / Member